Kan hriat angin UEFA chuan Men's Player of the Year award dawngtu an puang a, Chelsea midfielder Jorginho chuan he award hlu tak hi a dawng a ni. Top 3 ah hian Jorginho, Kevin De Bruyne leh N'Golo Kante te an lang a, Jorginho hian a midfielder pui leh Kevin de Bruyne hi a hneh a ni.
Hriat angin 2020/21 season ah khan Chelsea leh Italy tan Jorginho hi a che tha tak zet, UEFA Champions League leh Euro 2020 nomawi a chawi ve ve a ni. Kumin Ballon d'Or dawng tura rinkai ber pakhat ani mek. Jorginho hian UEFA Super Cup nomawi chawi leh tawhin, UEFA Nations League nomawi chawi theihna huntha a nei leh dawn a ni.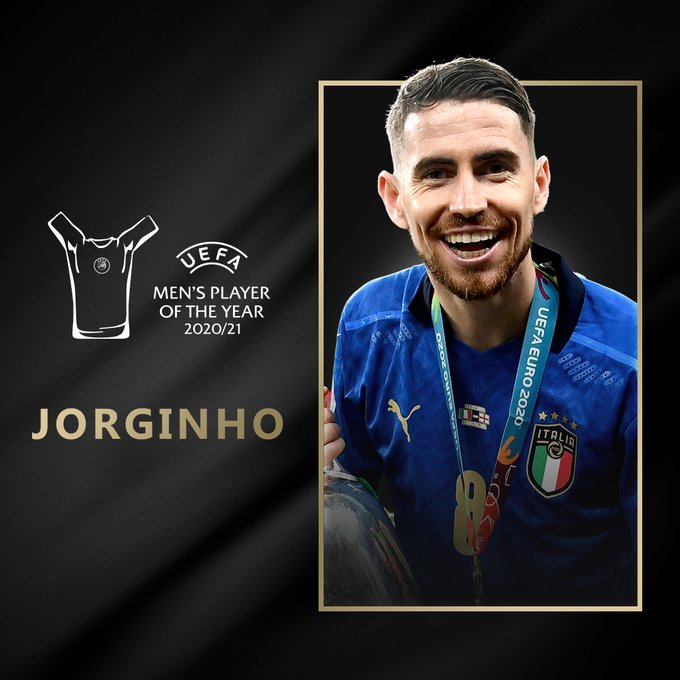 UEFA award dawng tur zingah hian player tha Robert Lewandowski, Lionel Messi leh Cristiano Ronaldo te pawh an langsar a, mahse, anni hi top 3-ah pawh an lang pha lo a ni. Chelsea tan chuan zan tha tak ani ngei ang. Chelsea goalkeeper Edouard Mendy chuan UEFA Champions League Goalkeeper of the Year award a dawng a, N'Golo Kante pawhin Champions League midfielder of the Year award dawngin,Thomas Tuchel pawhin coach of the Year award a dawng bawk.
Jorginho'an he award a dawn vang hian Ballon d'Or dawng thei turin a chance a sang hle a. Chelsea lama hun a hman tan tirh vel kha chuan chet that chang leh chet that loh chang a nei thin a, vawikhat lai phei chu Chelsea fans ten an huain, chhuak tura duhtu pawh an thahnem hle, mahse, a tawp a tawpah chuan Chelsea player tangkai ber pakhatah a inchhuah ta a ni.
A hnuaiah hian Twitter lamah best tweet thenkhat kan rawn tarlang e.
Best Tweets on Jorginho winning the UEFA Men's Player of The Year Award
🏆 😃 🏆#UEFAawards | #UCLdraw https://t.co/sRvirgIont pic.twitter.com/ELaKgVkBwj

— UEFA Champions League (@ChampionsLeague) August 26, 2021
✅ Mendy – CL GK of the Season.
✅ Jorginho – UEFA Men's POTY.
✅ Kanté – CL Midfielder of the Season.
✅ Tuchel – UEFA Coach of the Year.

Chelsea. Dominance. pic.twitter.com/mv8jbCMdkv

— LDN (@LDNFootbalI) August 26, 2021
Jorginho says in his interview thanks to those who doubted him because it made him work even harder 👏

I've been trying to tell people how fantastic he is since 2019 when he was being boo'd.

Great person, Warrior Mentality and Great Player, Chelsea dominance 💙 pic.twitter.com/Vfzd9zsjJ0

— Pys (@CFCPys) August 26, 2021
Jorginho has won the UEFA Men's Player of the Year Award! 🥇

Well played, Professor! 👏#UEFAawards #Azzurri #VivoAzzurro 🇮🇹 pic.twitter.com/iP7Onv4JWe

— Italy ⭐️⭐️⭐️⭐️ (@Azzurri_En) August 26, 2021
He might shave his beard, dye his hair, change from an Italy shirt to a Chelsea one, but no matter what one thing is clear, Jorginho just wins. pic.twitter.com/HXRarYyIML

— Alex Goldberg (@AlexGoldberg_) August 26, 2021
Jorginho's mum has wept for her son at the megastore upon arrival at Chelsea. She's seen him booed, disrespected and underrated. All this man ever wanted to do is play beautiful football, play the guitar and shout London is Bluuu. Mission accomplished, best player in Europe! 💙

— MAH (@matissearmani) August 26, 2021
🏆 Champions League
🏆 Super Cup
🏆 Euro 2020 Winner
🏆 #UCL Team of the Tournament
🏆 Euro 2020 Team of the Tournament
🏆 UEFA Men's Player of the Year

What a year for Jorginho! 💯 pic.twitter.com/6y1dwTKQ43

— Absolute Chelsea (@AbsoluteChelsea) August 26, 2021
Jorginho is the second player after Cristiano Ronaldo to win the following trophies and awards in the same year:

◉ UEFA Champions League
◉ UEFA European Championship
◉ UEFA Men's Player of the Year

The ultimate hat-trick.#UEFAawards pic.twitter.com/NEcxUn1AG5

— Squawka Football (@Squawka) August 26, 2021
I hope every Chelsea fans knows that there's no Kante Vs Jorginho's argument today right?

It's Kante and Jorginho✅ pic.twitter.com/WhqQ33ZB8Y

— PULISIÇATE (@Pulisicate) August 26, 2021
Nothing is stopping Jorginho from winning the Ballon d'or. pic.twitter.com/hyoaYMr5wH

— DollyPee Chelsea First Lady 💙💙💙 (@therealdollypee) August 26, 2021
Chelsea's Jorginho has won #UCL Player of the Season for 2020-21 🏆

Ballon d'Or 🔜👀 pic.twitter.com/yGA2Ulvbkw

— International Champions Cup (@IntChampionsCup) August 26, 2021
Source SPortskeeda