2020-21 PFA Player of the Year nominee 6 puan a ni a, heng player 6 atanga player 4 te chu Manchester City player te vek anni. Nominee-ah hian Tottenham Hotspur star Harry Kane leh Manchester United thiampuipa Bruno Fernandes pawh an tel a ni.
Kan hriat angin Manchester City chu Premiere League champion an ni a, Premiere League nomawi an chawi vawi 5 na a ni. Nominee 6 zingah Manchester City player 6 lai an tel pawh hi a awm reng.
PFA Player of the Year nominee-a tel te hi season liamta khelhah khan an che tha vek mai a. Manchester United star Bruno Fernandes pawhin season duhawm tak a hmang a. Manchester United chu table-ah 2 na dinhmun a hauh pui a, goals 18 a khung mai bakah assists vawi 11 lai an nei tling.
Harry Kane pawh hi a che tha ang reng a, Premiere League Golden Boot a dawn mai bakawh Premiere League Playmaker award a dawng bawk. Goals 23 a khung a, assist vawi 14 lai a nei tling a ni.
PFA Player of the Year Shorlist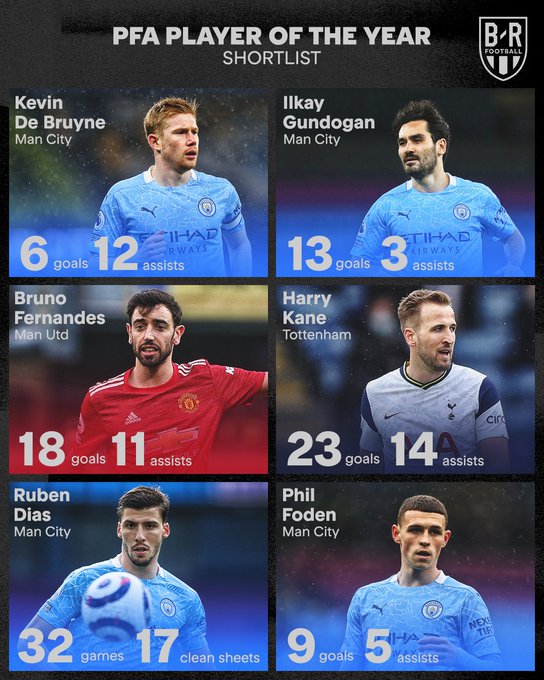 Source Sportskeeda