Kan hriat angin Euro 2021 round of 16 ah Belgium leh Portugal chu inhmachhawnin Belgium lamin 1-0 hnehna an chang a nih kha. Juventus superstar Cristiano Ronaldo chuan Thibaut Courtois hnenah a team te chu an vannei 'lucky' hle niin a sawi.
UEFA European champion lai Portugal te hi group stage lamah an che chhe lem lo, mahse, Roberto Martinez enkawl Belgium in an pet thla a nih kha.
Kha game a goal khat awmchhun khungtu kha Thorgan Hazard niin box pawn atanga a pet goal a ni a, hnehna chan nan a tawk hle. Huntawp rual khan Portugal captain Cristiano Ronaldo leh Belgium keeper Thibaut Courtois chu an inbiak lai hmuh a ni.
Belgium leh Portugal inkhelh zawhah khan UEFA Euro 2020 official Twitter account chuan C Ronaldo leh Courtois inbiak dan chiang zawk an tarlang.
"In vannei hle, vawiinah hian ball a lut duh lo a nih kha, ka lawmpui lutuk che." tiin Cristiano Ronaldo chuan Thibaut Courtois a hrilh niin an tarlang.
🗣️ "[The ball] didn't want to go in today."

🇧🇪🆚🇵🇹 Thibaut Courtois & Cristiano Ronaldo after the final whistle…#EURO2020 pic.twitter.com/oBDyZG3f8j

— UEFA EURO 2020 (@EURO2020) June 27, 2021
Euro 2020 atanga an tlak hnuin, Cristiano Ronaldo chuan Instagram account lamah thu a post ve nghal bawk.
"Kan duh ang result kan hlawhchhuak lo, mahse, kan zinkawngah kan inchhuang hle. Title venghim turin kan engkim kan hlan. Kan duh ai hmaah Euro 2020 atang kan tla a ni." tiin C Ronaldo chuan Instagram lamah a post.
"Kan fans te pawh a bul atanga a tawp thleng min tan a. Kan tlan a, an tan kan bei a ni. Kan chungah rinna tak tak an nghat a. Kan vai duhna erawh kan ti hlawhtling theilo a ni. Mahse, an chungah kan lawm tak zet." tiin a post bawk.
2020 UEFA European championship atangin Portugal an tlak tak avangin Belgium chuan quarter final ah Italy an hmachhawn dawn a ni.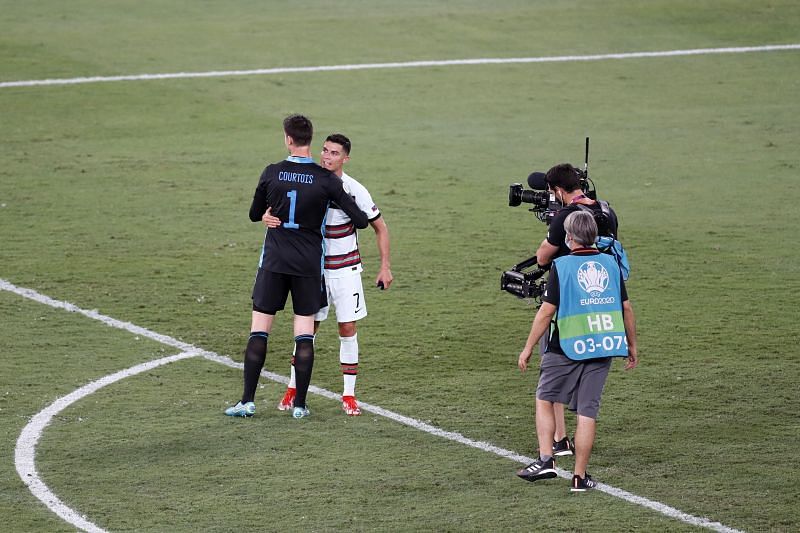 Source SK